← Home Thingscon 2019
Trustable Technology Mark – the Responsible Tech Session
Thursday, December 6, 13:00-15:00h
This session will be an open discussion format in a fireside chat style. In two rounds of 45 min we will discuss ethics, responsibility, and how this translates into human-centered design processes and products in the IoT. This is all about opening up a space for honest and open discourse, so while there will be a panel of about 3-4 guests, the emphasis here lies equally on the audience's input and questions.
More information on the Trustable Tech Mark at trustabletech.org

Host
Simon Höher

Simon Höher is a facilitator of processes and strategies, that explore emerging patterns of technology, culture, and society in a global context. As an innovation and strategy consultant his activities include helping organizations learn about ways to co-create their future, connecting people and communities in the realm of technology, design, and society, and mentoring companies and early-stage start ups in terms of business strategy and user-driven product development. He is sharing his learnings and questions as a conference speaker and active participant in various design and tech-related communities.
In his work Simon connects concepts of open & human-centric design, civic tech, urban innovation and digital transformation. He has hands-on experience consulting and advising DAX30 companies, start ups, and public organizations alike – and among others has been working with the likes of Deutsche Telekom, e.on, Intel, Fraunhofer UMSICHT, GIZ, GitHub, Mediatech, Gruner + Jahr, TU Berlin and more. He regularly mentors at Seedcamp, Europe's biggest accelerator program for early-stage start ups and is an active member of the MIT-based International Development Innovation Network (IDIN) and the Global Innovation Gathering (GIG).
Holly Robbins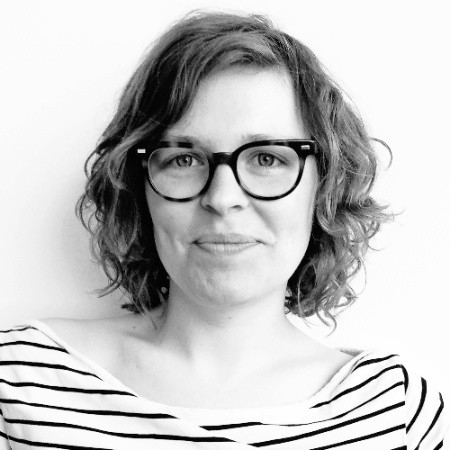 Holly works at the intersection of social sciences, humanities, and design. She engages with research topics that are rooted in philosophy of technology, but approaches these with a combination of research through design and design anthropology.
Holly's work specializes in shaping the role that connected and data-intensive technologies (IoT) have in our lives, and how to frame them as ethical, transparent, and responsible technologies. She collaborates closely with students, professional designers, and companies to explore and to put abstract conceptual concepts into practice. She, along with a collection of professional designers founded the Just Things Foundation, to promote ethically responsible design of technologies.
Manon den Dunnen
Manon den Dunnen is working at the Dutch National Police as a strategic specialist on digital transformation. IoT, AI (algorithm bias), Smart Society, Blockchain and Biotech are her areas of interest. She collaborates with various (semi)public organizations in a program contributing to the realisation of a safe, transparent, resilient & accessible digital infrastructure, including independent trust frameworks and a transparent IoT-Register. In addition, she is involved as organizer and community builder with IoT-Sensemakers Amsterdam and the Permanent Future Lab movement. Both communities focus on the sharing of knowledge, new technology, hands-on experience and human networks.
Harm van Beek
Harm van Beek co-founded The Incredible Machine, a strategic design lab with a focus on emerging technologies. Their team helps innovators to discover opportunities for progress and validate innovative concepts quickly. Doing so, they "take the guesswork out of innovation".